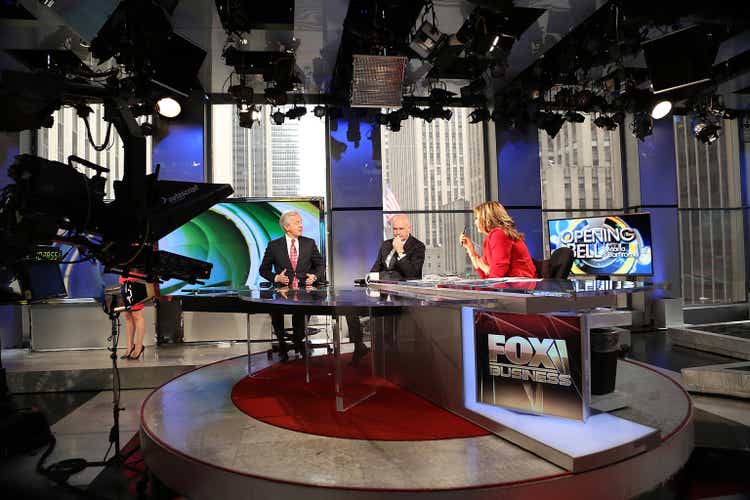 Fox Corporation (NASDAQ: FOX) is a mass media company that is publicly traded. Headquartered in New York City, Fox is controlled by well-known media mogul Rupert Murdoch. Fox Corporation was founded after its parent company 21st Century Fox was purchased by the Walt Disney Company (NYSE: DIS) in 2019. The assets from 21st Century Fox that were not carried over to the Walt Disney Company were spun off to create Fox Corporation. These assets included Fox's broadcast stations, television networks, and the national operations of Fox Sports. Since the formation of the newly minted Fox Corporation, the company has been busy acquiring Credible Labs, a financial technology company; Bento Box Entertainment, an animation company; Tubi, an internet streaming service; MarVista Entertainment, a major production studio, and well-known celebrity paparazzi company TMZ.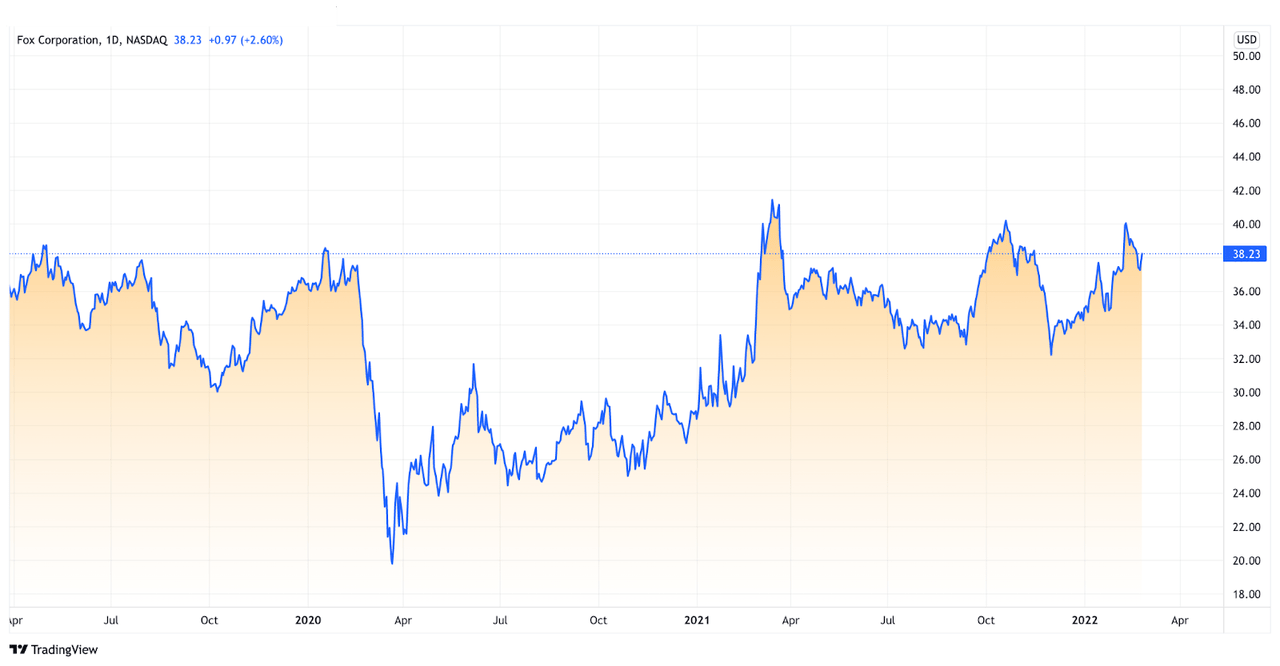 In this article, I will show that Fox Corporation is a reliable company, well worth investment. It has steadily turned a profit and increased revenue despite the media climate shifting more towards internet streaming. The company has proved savvy in its acquisitions and has set itself up for long-term future growth. Fox Corporation has also shown adaptability in staying relevant by forming a partnership with the popular sports betting app FanDuel. Despite the drop in media viewership, Fox has positioned itself to bring in record revenues while turning a profit and expanding its reach without over-leveraging itself. Advertisement revenues and affiliate marketing have provided a solid backbone, and the company shows little risk or vulnerabilities on the market. I would list Fox Corp as a buy for those reasons, and investors should pursue Fox with a bullish sentiment.
Mitigating the Damage of Streaming
Television stations used to dominate the open media market. For a long time, to access their favorite shows or watch new content, consumers had to purchase the channels (via cable or satellite services like DirecTV) and tune in every week for the newest episode. This generated revenue mainly in advertisements by analyzing the viewership rates of popular shows and selling blocks of time for advertisement during the most popular programs for a premium. This created bidding wars from major companies desperate to get their advertisements in the prime spots to a national audience. For many years this was the formula for success for media companies.
Now, the rise of internet streaming services has all but shattered that financial model. Declining traditional television viewership has lowered the demand for traditional television advertisement and, thus, has lowered the price. Instead, advertisers have flocked to digital media alternatives and advertisements through streaming services and web platforms. This put a drastic hold on the profits that could be reaped through advertisement mediums for television companies. Not all was lost, however. As of 2021, Nielsen reported that Network TV and cable still held a 2/3 majority of 64% in viewership rates compared to the 26% held by streaming. With that being said, those streaming percentages have been steadily climbing, showing no signs of slowing down.
Fox Corporation has managed to hold strong during these transitions. They have done so by hedging their bets and playing the markets. Sensing the changing trend in favor of streaming, Fox made an acquisition of TubiTV in 2019, a popular streaming service. While that service does not collect membership fees, it was another medium in which advertisement space and affiliate marketing opportunities could generate revenue. Additionally, Fox purchased MarVista Entertainment, a production company, aiding in their efforts to continually produce their own content, lessening the money needed to acquire TV series from other productions companies, allowing them to develop more in-house.
Bet on It
Fox Corporation made a major splash in the world of sports betting as of late, acquiring a 20% interest in major sportsbook betting company FanDuel via its parent company Flutter Entertainment. This was not the original plan, however. Fox's foray into the world of sports betting initially was meant to make it a rival to leaders FanDuel and DraftKings. The initial idea was to be their own sports betting company called "Fox Bet." The company formed a partnership with Canadian sports betting company The Stars Group to achieve this. Fox Corporation paid The Stars Group $236 million for nearly 5% equity.
This agreement, however, did not pan out according to its original terms. Flutter, the parent company of FanDuel, purchased The Stars Group for $6 billion. In this deal, the equity that Fox Corporation had in The Stars Group was transferred to Flutter, bringing Fox Bet under the control of Flutter. However, due to provisions in the original contract, Fox Corporation also had the right to up their equity interest, making the new arrangement even more profitable than the original agreement, despite likely ending any plans of expanding Fox Bet. With this agreement, Fox Corporation now finds itself firmly invested in the future of a highly lucrative Sports Betting company with a proven track record of success, opening the door for more new revenue generation.
Financial Overview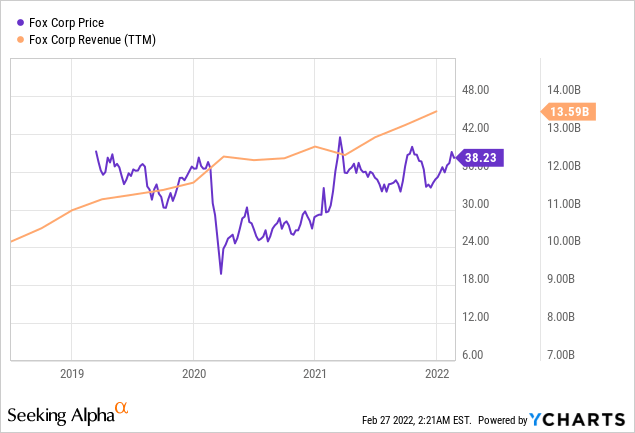 Fox saw yet another year with a growth in total revenue. From 2018 through 2021, they have seen an increase every single year. From 2018 to 2019, their revenue increased by over $1 billion, from $10.1 billion to $11.3 billion. The following year revenue grew from $11.3 billion to $12.3 billion, back-to-back years of posting $1 billion or more in revenue growth. 2020 to 2021 saw yet another year of growth, though not at the rate of previous years. This last year saw revenue growth of only $600 million, from $12.3 billion to $12.9 billion. Perhaps even more impressive is that all of this revenue is generated through advertisement and affiliate market, meaning there is a limited cost of revenue. This means that the majority of the $12.9 billion that Fox made in revenue this year is reported as profit.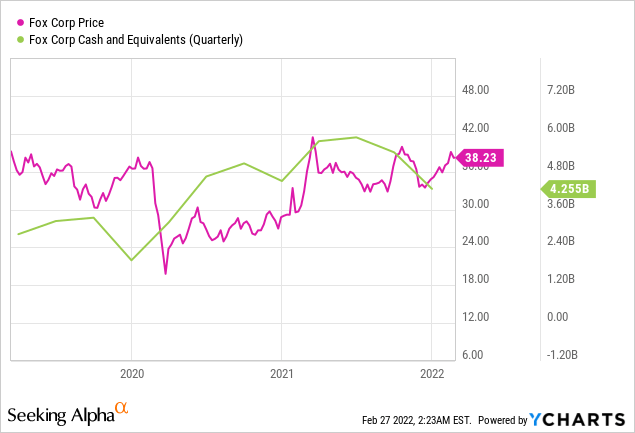 Fox Corporation again put up a strong history in terms of the balance sheet and continued that positive trend in 2021. Dating back to 2018, they closed the year with a reported $2.5 billion in cash. In 2021 that number increased by over 100%, with a reported cash and cash equivalents value of $5.8 billion. That cash can be used to expand business or purchase other assets (such as production studios, animation studios, news stations, etc.) without taking on any significant long-term debt. This leaves Fox in the driver's seat regarding future earnings potential.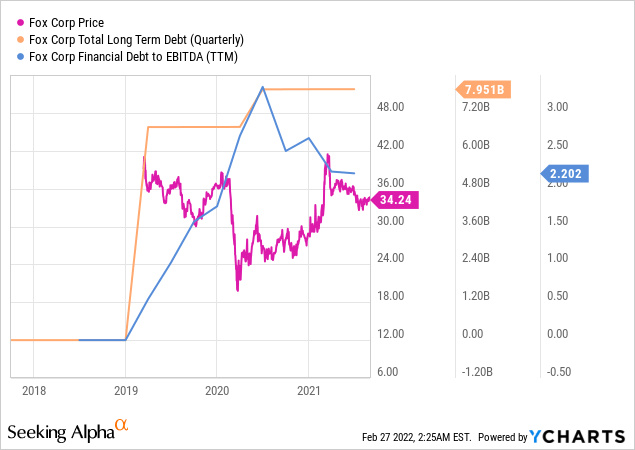 In terms of total debt, Fox does hold a hefty sum. In 2019 the debt stood at $6.7 billion. In 2020 that number rose to $7.9 billion. However, 2021 showed a downward trend, reducing debt to $7.2 billion. With a debt-to-income ratio of 2:1, any concerns about the company's ability to pay its debts are unfounded. Fox has found a way to pay their debts, knock their interest payments, increase revenue, and do it all while still maintaining flexibility in terms of cash flow. There is absolutely nothing in the financials that suggests anything less than continued profit and success for Fox Corporation.
Conclusion
The future of media has undergone a rapid shift in the last few years – a trend that is only expected to intensify in the future. While that may be enough to worry some traditional television companies, Fox Corporation has found a way to hedge their bets (buying a streaming platform) as well as expand into new areas of opportunity (sports betting) Their aggressive market approach has proven successful over the last four years, raking in massive profits and improving their operations on a regular basis. Fox Corporation has been able to capitalize on its advertisement revenues, providing a solid foundation through which they have been able to seek growth. All of these reasons, including the value provided by recent acquisitions, make Fox a great company to consider for investors interested in the sector.